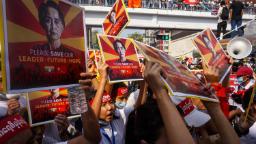 Updated 3:49 AM ET, Mon February 22, 2021
Myanmar's military seized power in a coup on February 1, detaining civilian leader Aung San Suu Kyi and other senior government officials.
Less than a week later, pro-democracy protests broke out in Yangon, the country's largest city.
These demonstrations have continued across the country despite intermittent internet blackouts, nighttime raids on prominent critics, and a heavy presence of armored vehicles on city streets.
The sudden seizure of power came after months of increasing friction between the civilian government and the powerful military, known as the Tatmadaw, over alleged election irregularities. The country's election commission has denied repeatedly that mass voter fraud took place in November's general election, when Suu Kyi's party was widely reported to have won another decisive victory.
Military regimes ruled Myanmar from 1962 until 2011.
https://www.cnn.com/2021/02/16/asia/gallery/myanmar-unrest/index.html

CNN – CNN INTERNATIONAL