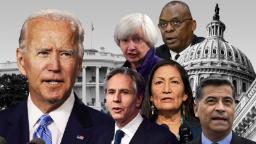 And what's as fascinating is that even some of the picks that appeared headed for rough seas now look likely to get confirmed.
Take Neera Tanden, Biden's pick to run the Office of Management and Budget.
Tanden's nomination was met with widespread skepticism
due, at least in part, to her long history of tweets attacking senators by name. Her nomination appeared even more imperiled when Sen. Bernie Sanders (Vermont), who had been on the receiving end of lots of Tanden's barbs, ascended to the chairmanship of the Budget Committee — which is charged with holding her confirmation hearing.
"The GOP is fixated on rejecting President Biden's pick to helm the Department of Health and Human Services, but not for the type of personal failings that typically doom early nominees. It is Becerra's perceived political and policy sins that are fueling the bid to block him. His California credentials aren't helping in a Senate where Republicans have no shortage of hostility toward the state, particularly after Becerra led the filing of more than 100 lawsuits against the Trump administration.
"Minority Leader Mitch McConnell (R-Ky.) recently ripped into the nominee on the Senate floor, calling Becerra a 'famously partisan' abortion advocate who is unqualified for the job. Oklahoma Sen. James Lankford called Becerra's policy pursuits 'bizarre,' accusing the California attorney general of 'encouraging the death of children.' Sen. John Thune of South Dakota said Becerra is on the 'extreme left.'"
But there's no question that the Cabinet confirmation process has gone smoother than even Biden — no stranger to Senate confirmation fights — could have even hoped. So far, at least.
https://www.cnn.com/2021/02/11/politics/biden-cabinet-nominations-approval/index.html

CNN – CNN INTERNATIONAL